Getting noticed by in-market shoppers doesn't have to be a challenge when you have a well-maintained (and free!) Google My Business account. In fact, 74% of in-store shoppers are searching Google for businesses near them, business locations, inventory, hours, directions, and contact information before ever going into your dealership.*
The Knowledge Panel – Your First Impression
You've probably seen Google's knowledge panel when searching for local restaurants, shops, or even doctor's offices. Here, you're able to quickly view key information about the business you're researching, and the same goes for your dealership's in-market shoppers. On your knowledge panel, you can display your:
Dealership Name
Address
Phone Number
Store Hours
Website
Customer Reviews
Photos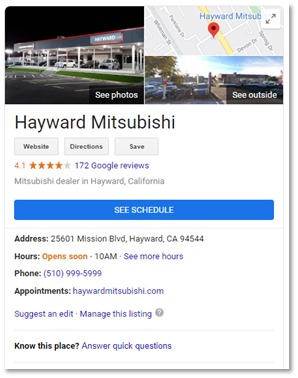 Dealership Name
Customers should be able to recognize your dealership right away, so be sure that the name you display is the one used consistently on your storefront, website, and all other advertisements.
Address
Always list your address and service areas accurately across all locations it's displayed, including Google and your dealership's website. Google's algorithm verifies your listing's legitimacy by how your address is written across different websites. For example, that means you'll want to choose between saying Road or Rd in all your listings.
Phone Number
Use a local phone number instead of a central, call center helpline or toll-free number whenever possible. Be sure to use the same phone number throughout your various online listings, including Google. Tell Google you're a local business when you use a phone number with a local area code.
Store Hours
Keep your hours updated, especially if your dealership is operating under reduced hours or is temporarily closed. You can also feature special hours like holiday or event hours. It's important to note that some websites use Google My Business to find your hours, so if you have incorrect hours on Google My Business, they could be incorrect on other websites.
Website
Use the URL for your website's homepage, and be sure to format it properly. That means you'll need to have https:// or http:// and include or omit the www. as needed.
Customer Reviews
Show shoppers that you're engaged with your customers by personally replying to your Google reviews, or hire a service that can do it for you. The more reviews you have, the better, so don't be afraid to ask your customers to leave you reviews. Keep your review requests timely after a sale and stay professional.
Photos
Geocoding the images you upload (which simply associates your images with your dealership's location) will help you optimize your local SEO and push you ahead of your competition. You can do this by using a service like Flickr and uploading your photo to geocode it with your location. Note that other Google users do have the ability to upload images of your business that can also appear in your knowledge panel, but if they violate Google's Map User Contributed Content Policy, you can flag them to be removed. Unfortunately, that means you can't always get an image removed just because it's unflattering, or you don't like it.